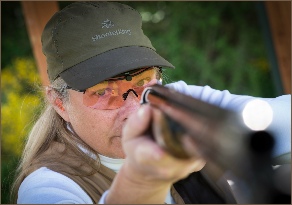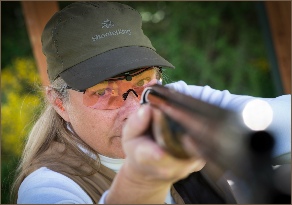 Certifications:
USAYESS Pro Instructor
Coordinated Shooting Method Instructor
National Sporting Clays Association Level I Instructor
Teaching Since: 2008
Specialty: Sporting Clays & Wingshooting
Great for: Beginner / Novice / Intermediate / Advanced
Teaches: Sporting Clays, FITASC, 5-Stand, Trap, Skeet and Upland
Availability: Wednesday – Sunday
Rate: $100/hr
A number of years ago I was introduced to the shotgun sports by a dear friend who was passionate about two things in life . . . upland bird hunting and Sporting Clays. Thanks to my friend, I now share a passion for these sports with my husband, family and friends.
My journey in the clay target sports has taken me far and wide, beginning with recreational shooting and transitioning into competitive shooting where I have won some State, Regional and National accolades including three-time National Sporting Clays Association Ladies All American Team.
I obtained my Shooting Instructor Certifications to further my knowledge and skills as an avid wing and clay shooter, but also so that I can share my passion for the shooting sports with others. My instructional philosophy is not to teach you how I hit targets, but to teach you how YOU can hit targets! When you're ready to discover the fun that can be found at the shooting range, please contact me. It will be my pleasure to introduce you to the shotgun sports or improve your target crushing skills!
Here's what Vandy's students have to say…
— I'm an older adult woman who was looking to try clay sports for the first time in my life in hopes of having something fun to share with my husband in our retirement years. Vandy made learning fun, and I had success on my first lesson! There is no 'cookie-cutter' instruction here; each lesson is tailored to your level of experience, learning curve, and physical uniqueness – I had a blast (literally!!) learning with Vandy! I will be back and would recommend her and Mid-Valley Clays & Shooting School to anyone!
Sherri S.
— My friend and I went to get a lesson for an upcoming trip to South Dakota for pheasant hunting.  Vandy was very personable, professional and was a fantastic teacher. Highly recommend this place!
William T.
— Vandy is amazing!  Our girls loved her and their lesson with her.  She keeps things simple to start and makes it really fun.  There was a lot of smiles and laughter.  Vandy made sure that safety was top priority and kept safety flowing through the whole lesson.  We will be back for sure!  Thank you Vandy for making the girls first experience with this sport fun and adventurous!  You are incredibly talented in teaching kids.
Kisa K.
— Had a 90 minute clay shooting lesson with Vandy a few days ago and it was absolutely fantastic. Vandy really knows her stuff and is just a brilliant teacher – she knows how to balance conveying new information and letting you put it into practice on the range without overloading you. She's super patient, positive and results-oriented while also being very low key at the same time. I made a really satisfying amount of progress in one short lesson – left Mid-Valley feeling confident and excited to return for more coaching and generally excited to for sporting clays and upland bird hunting. Great club too with a nice atmosphere.
Evan E.
— I have been taking lessons from Vandy for about 6 years. I'm not a competitive shooter, but a hunter who shoots sporting clays as training for bird season. As a tournament shooter who also loves to hunt, Vandy is totally comfortable coaching with my goals in mind. Over the 6 years, Vandy has done a great job of coaching at the level I'm ready for. To really get better at something requires both working hard and working smart. I've had to do the working hard part myself, of course. But Vandy has done a great job of helping me work smart; that is, work hard on the right stuff. I'm in my mid-60's, and it's tremendously gratifying at this age to still be getting better at something physical. So I can and do highly recommend lessons with Vandy to any shooter I see struggling. Especially hunter-first types like me.
Gene J.