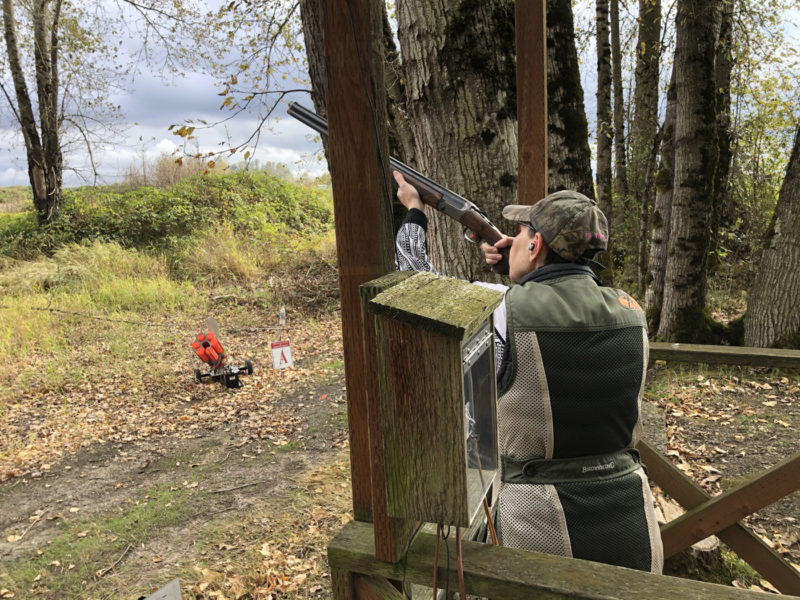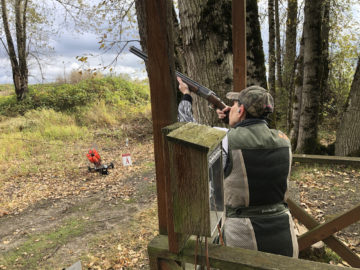 Mid-Valley Clays & Shooting School is Oregon's premier clay target shooting range with a full-service pro shop, rental shotguns & equipment, covered shooting stands and professional instruction. Mid-Valley Clays & Shooting School is perfect for all skill levels, from beginners to tournament regulars.
Mid-Valley Clays & Shooting School is owned and operated by Dave & Vandy Fiedler, who have extensive experience shooting and instruction in clay target sports. We are passionate about your having a positive experience at Mid-Valley Clays.
New to shotgun shooting or to our facility?  See our flow chart –>
What To Expect:
Well Maintained Facilities: A 15-station Sporting Clays course, two covered 5-Stands with seven traps each, six Skeet fields and two Trap fields with one able to throw Continental trap.
Pro Shop: A full-service, one-stop pro shop with new & used shotguns, ammunition, shooting clothing, accessories, safety equipment, and rental shotguns & carts.
Certified Professional Instructors: Whether you are a seasoned shotgunner or brand new to the sport, we have a variety of qualified instructors ready to help your game. Advanced booking is required, online or by phone or email.
Shotgun Rentals: Whether you're just trying clay sports out or looking to purchase a shotgun of your own, our pro shop staff will help get you acquainted with the correct equipment to enjoy your day.
Location:
We are located between Hwy 99E and I-5 in Gervais, Oregon, about 40 minutes from Portland and 20 minutes from Salem by car.
6181 Concomly Road NE Gervais, OR 97026
Frequently Asked Questions:
What do I need to know before enjoying a day at Mid Valley Clays & Shooting School?
For people who are new to shotgun sports, we recommend booking a lesson with one of our instructors. This is the best way to ensure you have a positive experience during your first visit to our facility.
While you don't need to have experience with a shotgun enjoy our facility, to ensure the safety of all users, we do ask that all shooters read our Safety, Terminology & Etiquette Page before coming to the range.
Where are you located?
We are located at 6181 Concomly Road NE, Gervais, OR 97026, just east of Interstate 5, about 40 minutes from Portland and 20 minutes from Salem by car.
Is there a minimum age for shooters?
Children under the age of 18 are welcome as long as they are accompanied by a parent or guardian.
Who is welcome?
All are welcome here at Mid-Valley Clays & Shooting School. Whether you've been shooting for years, or have never used a shotgun before, our dedicated staff and instructors are here to ensure all shooters have a great time. We have retail and rental options designed specifically for women, youth, and left-handed users, as well as female and left-handed instructors available for lessons.
Do you have equipment I can use? Do I need to bring my own?
Our rental options include shotguns, push carts and golf carts.  We offer shells, eye protection, hearing protection and targets in our full service pro shop.
What kind of firearms am I allowed to bring?
We are a shotgun-only facility.
(Short-barreled self-defense shotguns may not be appropriate for our sports, depending on the barrel. Check with our staff if you are unsure about the details of your own gun.)
What kind of shot shells am I allowed to shoot at your facility?
You can bring your own shot shells or purchase some in our pro shop.  If you bring your own shells, for safety reasons we must verify that they meet these standards:
target/field loads
shot size of 7-1/2 or smaller (8, 8-1/2 or 9)
1-1/8 ounce of shot or less, and
the powder charge must be 3 drams or less
Are you open?
We are open Wednesday – Sunday 10:00am-6:00pm, and closed Monday & Tuesday.
After Hours Wednesday: Please call if you would like to shoot after hours, we will stay open until the last shooter is done.
Our events calendar has details about our holiday closures and special events.
Can I bring my group?
Yes!! We highly encourage groups to shoot at Mid-Valley Clays, and have a variety of packages and special rates to ensure your group has a blast. To get special rates, group packages must be booked in advance. A group event on our range is perfect for team building, bachelor & bachelorette parties, birthdays, retirement parties, and so much more.
Have more questions?
Give us a call at (503) 792-3431 or contact us for more information.