Whether you're 8 or 18 we have the gear that fits you.  Stop in our pro shop and check out our large selection of shotguns and shooting apparel in just the right size to fit young shooters.
EVERY SATURDAY IS DISCOUNT DAY FOR KIDS 18 & UNDER!
---
Mid-Valley Clays & Shooting School is proud to be the home range for the Mid-Valley Clay Crushers youth shooting team, led by Head Coach Vandy Fiedler and Assistant Coaches Dennis Grauer & Curtis Stone.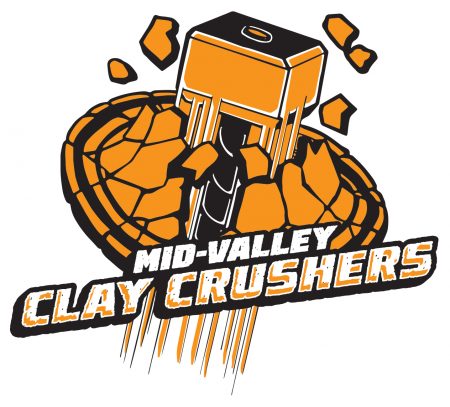 Mid-Valley Clay Crushers will expand the team for the upcoming 2019/2020 season.  The team has opened up five positions, three of which have already been claimed!  For more information or if you're interested in joining the team contact Vandy Fiedler at vandy@midvalleyclays.com or Laycee Grauer, our team manager at ltgrauer@gmail.com
Follow the team on Facebook @MIDVALLEYCLAYCRUSHERS
The results of the Crushin' Clays Youth Event are in!  Here they are.
Crushin' Clays 2019 Youth Tournament Results
Athlete Name
Team
Division
C-S-J-L
Rookie
Skeet
Round
1
Skeet
Round
2
Skeet
Round
3
Skeet
Round
4
Total
Skeet
Trap
Round
1
Trap
Round
2
Trap
Round
3
Trap
Round
4
Total
Trap
Sporting Clays
Total Targets
Accolades
Michael
Williams
Clatsop Shot & Awe
S
22
24
25
22
93
22
21
22
22
87
87
267
Senior – 3rd – Sporting Clays
Senior – 3rd – Skeet
Team – RunnerUp – Sporting Clays
Team – RunnerUp – Skeet
Team – RunnerUp – Trap
Charlie
Williams
Clatsop Shot & Awe
S
19
22
19
22
82
24
22
21
20
87
80
249
Team – RunnerUp – Sporting Clays
Team – RunnerUp – Skeet
Team – RunnerUp – Trap
Colton
McMaster
Clatsop Shot & Awe
S
19
23
21
21
84
24
20
23
19
86
68
238
Team – RunnerUp – Skeet
Parker
DeForrest
Clatsop Shot & Awe
S
19
21
22
20
82
23
24
21
20
88
68
238
Team – RunnerUp – Skeet
Team – RunnerUp – Trap
Ian
Kirby
Clatsop Shot & Awe
S
19
19
20
17
75
18
20
16
17
71
76
222
Kory
Constantine
Clatsop Shot & Awe
S
18
20
14
16
68
16
20
18
16
70
77
215
Team – RunnerUp – Sporting Clays
Lucy
English
Clatsop Shot & Awe
L
14
19
20
21
74
21
18
19
18
76
0
150
Ladies – RunnerUp – Trap
Ladies – 3rd – Skeet
Chase
Parker
Grovers Gunners
L
19
21
22
22
84
18
18
13
16
65
81
230
Ladies – HOA
Ladies – HighGun – Sporting Clays
Ladies – HighGun – Skeet
Braiden
Miller
Grovers Gunners
Rookie
18
17
17
15
67
15
15
14
11
55
63
185
Grayson
Dick
Lincoln Co. 4-H
S
11
13
13
12
49
15
17
21
17
70
54
173
Punky
Gibson
Lincoln Co. 4-H
L
11
8
12
7
38
18
19
18
17
72
57
167
Ladies – RunnerUp – Sporting Clays
Ladies – 3rd – Trap
Ben
Spangler
Lincoln Co. 4-H
Rookie
8
13
12
8
41
14
16
18
17
65
60
166
Ryder
Barnes
Lincoln Co. 4-H
J
8
6
5
6
25
16
19
17
15
67
29
121
Rever
Mullins-
Stricklin
Lincoln Co. 4-H
Rookie
0
0
31
31
Mason
Grauer
Mid-Valley Clay Crushers
J
22
23
24
23
92
19
22
20
22
83
82
257
Junior – HOA
Junior – HighGun – Sporting Clays
Junior – RunnerUp – Trap
Junior – HighGun – Skeet
Team – 3rd – Trap
Caleb
Grauer
Mid-Valley Clay Crushers
J
19
21
20
17
77
19
21
19
21
80
69
226
Junior – RunnerUp – Sporting Clays
Junior – 3rd – Trap
Junior – 3rd – Skeet
Team – 3rd – Trap
Kenji
Chang
Mid-Valley Clay Crushers
Rookie
18
15
20
14
67
19
20
20
23
82
70
219
Rookie – 3rd – Sporting Clays
Rookie – RunnerUp – Trap
Team – 3rd – Trap
Mac
Filiault
Mid-Valley Clay Crushers
S
17
20
15
18
70
18
21
16
18
73
70
213
Elijah
Rowley
Mid-Valley Clay Crushers
Rookie
16
16
17
17
66
16
16
11
15
58
62
186
Turner
Merrell
Rogue Valley Young Guns
C
21
23
21
24
89
24
25
25
19
93
73
255
Collegiate – HOA
Collegiate – HighGun – Sporting Clays
Collegiate – HighGun – Trap
Collegiate – HighGun – Sheet
Team – 3rd – Sporting Clays
Team – 3rd – Skeet
Ty
Parsons
Rogue Valley Young Guns
S
21
24
22
19
86
15
16
19
16
66
88
240
Senior – RunnerUp – Sporting Clays
Team – 3rd – Sporting Clays
Team – 3rd – Skeet
Zion
Pittman
Rogue Valley Young Guns
S
21
16
21
20
78
19
17
14
12
62
74
214
Team – 3rd – Sporting Clays
Zach
Ausborn
Rogue Valley Young Guns
S
19
22
19
21
81
21
22
20
20
83
164
Team – 3rd – Skeet
Mathew
Poole
Rogue Valley Young Guns
S
20
21
14
19
74
0
64
138
Jackson
Hora
Whatcom Clay Busters
S
24
21
24
25
94
21
24
23
25
93
86
273
Senior – HOA
Senior – 3rd – Trap
Senior – RunnerUp – Skeet
Jared
Wallingford
Woodland Trap
S
22
19
23
22
86
25
24
24
23
96
91
273
Senior – HighGun – Sporting Clays
Senior – HighGun – Trap
Team – HighGuns – Sporting Clays
Team – HighGuns – Skeet
Team – HighGuns – Trap
Jase
Bustad
Woodland Trap
S
22
24
24
25
95
24
23
24
23
94
73
262
Senior – RunnerUp – Trap
Senior – HighGun – Skeet
Team – HighGuns – Skeet
Team – HighGuns – Trap
Jonah
Bustad
Woodland Trap
Rookie
18
20
22
21
81
18
20
22
21
81
78
240
Rookie – HOA
Rookie – HighGun – Sporting Clays
Rookie – 3rd – Trap
Team – HighGuns – Sporting Clays
Grayson
Jackson
Woodland Trap
J
21
19
22
22
84
21
21
22
20
84
69
237
Junior – 3rd – Sporting Clays
Junior – HighGun – Trap
Junior – RunnerUp – Skeet
Team – HighGuns – Skeet
Garrett
Jackson
Woodland Trap
S
20
20
18
19
77
19
16
17
14
66
78
221
Team – HighGuns – Sporting Clays
Maggie
Merle
Woodland Trap
L
20
22
21
20
83
17
23
20
20
80
55
218
Ladies – 3rd – Sporting Clays
Ladies – HighGun – Trap
Ladies – RunnerUp – Skeet
Dane
Hauge
Woodland Trap
S
22
15
20
20
77
15
17
20
17
69
72
218
Thomas
Fallon
Woodland Trap
Rookie
11
14
14
15
54
19
24
24
21
88
75
217
Rookie – RunnerUp – Sporting Clays
Rookie – HighGun – Trap
Team – HighGuns – Trap
Cole
Hathaway
Woodland Trap
Rookie
14
16
12
19
61
16
16
15
14
61
56
178
Aquioa
Coss
Woodland Trap
Rookie
10
10
9
11
40
12
23
9
11
55
24
119