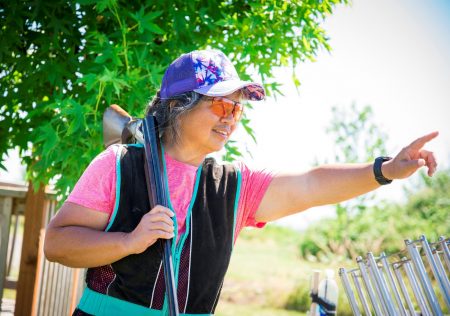 Certifications:
USAYESS Pro Instructor
Coordinated Shooting Method Instructor
National Sporting Clays Association Level I Instructor
Teaching Since: 2008
Specialty: Sporting Clays & Skeet
Great for: Beginner / Novice
Teaches: Sporting Clays, FITASC, 5-Stand, Skeet & Trap
Availability: SEASONAL INSTRUCTOR
Available: June through September, Wednesday – Sunday
My journey in clay target shooting started with an introductory shotgun class that my husband and I took together a number of years ago. I started out by shooting recreational skeet, meeting some great people who encouraged me to enter skeet competitions. I added competition sporting clays when the opportunity to shoot more tournaments became available. Through the help of some great coaches, I have been able to win some class and state titles.
I took my first instructor class in 2008 because I had been volunteering at youth introductory shooting and wanted to learn how to be an effective instructor. I enjoy teaching so furthered my education by taking additional instructor and refresher classes. My specialty is in introducing new shooters to the game, especially women and children, teaching fundamentals in a safe and fun environment. I also look forward to working with novice shooters who want to improve their skills.